E7 / S1
María's Studio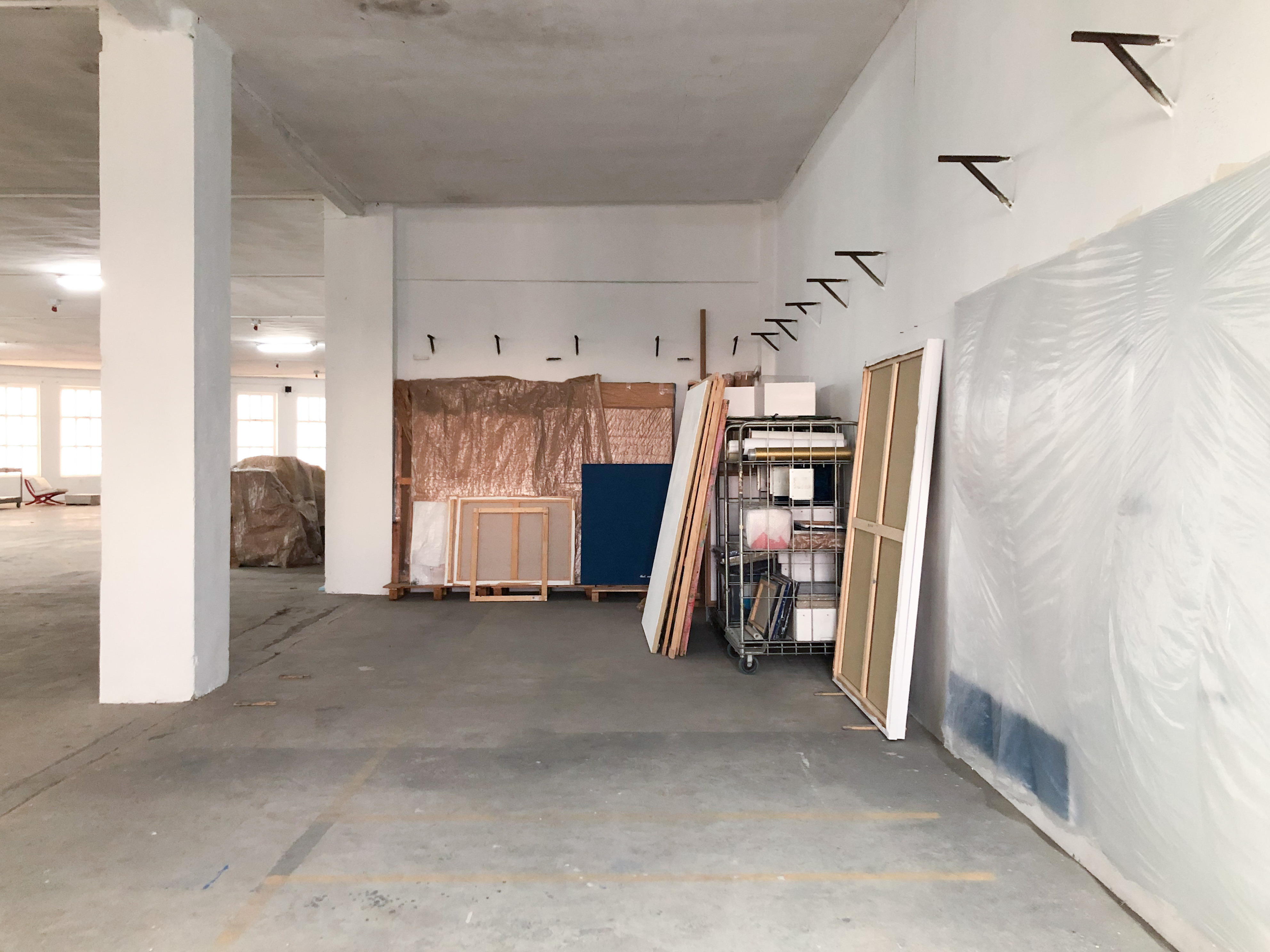 Square Meters
features the Spanish visual artist
María Tinaut
. Starting with the description of her personal photocopy archive that she travels with since the American days, talking about the color blue has a source of constant inspiration, to finish with some thoughts around the role of art and culture in pandemic times, María lets us peek into her creative mind. This episode was recorded at her
atelier
located in Studio Buena Vista, in a small village nearby Valencia, Spain.
At
Studio Buena Vista
the atmosphere is calm and familiar, yet the big gray industrial open space gives a sense of intensive creative production.
María's studio is on the back of the building, illuminated by a big cracked window facing palm trees and orange fields.
It's 9.30 am and the light is beautiful.
María settled here after many years living in the United States and finally in New York City, where she was pursuing her career as an artist before the pandemic hit very badly. Her artistic journey began as an abstract painter until she was admitted to the Fine Art faculty of Virginia Commonwealth University. There, she started experimenting with mediums, questioning herself about photography and reproduction.
By using a cheap photocopier as an "analog photoshop", María explored the infinite possibilities of an image, underlining with her practice how the content can be always reframed and re-contextualized. In fact, most of her paintings look like re-escalated A4 papers, showing more vividly the relationship between photography and painting — ultimately one of the major topics of her artistic research.
Moreover, María's interest in photography has been driven by a photos family archive she found in her grandfather's house in Madrid. These photos, taken during the years of dictatorship in Spain after the II World War, document a very intimate and delicate aspect of the personal life of her grandfather. Those photos are the witnesses of the love he felt through his wife and children in difficult times.
"
There isn't a single-family in this country that didn't suffer the consequences of the dictatorship. Hunger, starvation and systematic killing were real
".
The color blue is another element that comes often in her practice: blue is a small colored mark that shows the illusion of a painted surface. It seems like Blue is a soundtrack in the background that we can hum even though we can't remember the title.
Finally, for María artists should have trust and faith in their practice and they deserve the space to talk about our contemporary. And contemporary art is nonetheless important as it always has been, now more than ever.
María's latest exhibition is entitled '
Sin título, y todavía verano
' (Untitled, yet it's summer), and it will be accessible to the public from September, 25th until November, 13th 2020 at
Galería Rosa Santos
in Valencia.
Credits /
Curated by Alessandra Chiericato
Recorded: October 2020
Published: October 2020
Music: Roberto Farina
Editing: Alessandra Chiericato
Photo Credits: The Room Projects